.
West behind overthrow of Ukrainian government, former congressman says
Kit Daniels
Prison Planet.com
February 23, 2015
The overthrow of the legally elected government of Ukraine was "was not only supported by U.S. and EU governments — much of it was actually planned by them," former congressman Dr. Ron Paul said.
.
Ron Paul is right again.
.

Et.Tu.Britass
(To)
swede
•
10 minutes ago
.
Ron Paul is behind Ron Paul giving himself a 33rd degree reach-around most days 😦
.
Not that hard to grasp the technique Masons all use to look like they're all good guys while they're running treasonous conspiracies pursuing the opposite of what they'll publically espouse ~ It does however take a steely inner discipline not intimidated by the threat of death to never allow that 'ONE GROUP OF MASONS' playing the good guys seeking genuine outcomes to distract you from always being aware of what the other group of their 'LOYAL BROTHER MASONS' are pursuing, which is often a diametrically opposed outcome to those the public face promotes ~ Just like those at the highest (30th to 33rd) levels of Masonry treat those in the lower orders as useful idiots, those in lower orders treat non-Masons as useful idiots in the same way, meanwhile all those in the lower orders are 'NEVER' promoted up the ranks until they've all demonstrated a mindless obedience to those in the higher orders which (I'm told) mimics a law of the sea, where 'THE CAPTAIN' is always to be obeyed even if his orders literally sink the ship ~ Most outsiders don't know, or don't care ~
(Witness JFK's Masonic killers promoted to high office in time for 911) ~
.
Those who've made it on up the ranks know, yet don't care anymore ~
'Catch 22' being that if they made waves, they'd never rise in rank ~
.
.
It's not just Masonic treason against the state   😦
It's become Masonic treason against a species   😦
.
Federal agency interviews Americans abroad before allowing them to fly home
Paul Joseph Watson
Prison Planet.com
February 24, 2015
Activist Jonathan Corbett has lifted the lid on a chilling and hitherto secret TSA program which mandates that airlines operating outside of the U.S. conduct invasive security interviews of travelers before allowing them to return to America.
.
.
America doesn't fully grasp the fact that 'THEY' financed German National Socialism to wreck Europe via the US Fed connected Bank (s) and now have a huge piece of the fascist pie ~ There is a stupid feminine concept to blame for all of this crap ~ She is called 'KARMA' and she is always a total beach to friends and foes alike 😉
.
Her methods haven't changed since the days when someone wrote that you reap what you sow as someone else blackmailed King David over bonking his best male friend Jonathon in a deserted wheat field somewhere ~ Anyway, me wonders how many of you understand that 'BLACKMAIL' is the same method that controls all of the ppl in your US government structure at any level of real power whatsoever now 😦
Higher-up you go, the heavier the subjects they're blackmailed over go 😦
Guys that were blackmailed into shooting Kennedy over previously being part of a (Successful) treasonous plot to stick a stolen nuke under congress prior to the Cuban missile crisis, one of whom was blackmailed over his taste in underage girls to help the plotters get their nuke past those guarding the entrance to the tunnel, were then blackmailed over the next 38 years after assassinating JFK from the Grassy Knoll into being central to the 911 attacks ~ What America now struggles under with it's ever increasing fascism is, in a way, karma, yet in more practical terms it's like what the Masonic Soviet part Jewish writer Solzhenitsyn once wrote about when he said that "WHATEVER YOU ALLOW SOON BECOMES THE NORM, AND IN THE FUTURE THE NORM IS ALWAYS EXCEEDED" ~ That's what got you in this predicament ~
What you did to others has come full circle and with most of you unable or unwilling to tell the truth about anything at all now, all you do is run around in circles as the Masons who ran the whole show since JFK keep on shooting themselves in the foot on full auto with the lies they automatically reach for in times of national crisis ~
.
So they may not let you back into America, America? ~ Gee, that's tough 😦
.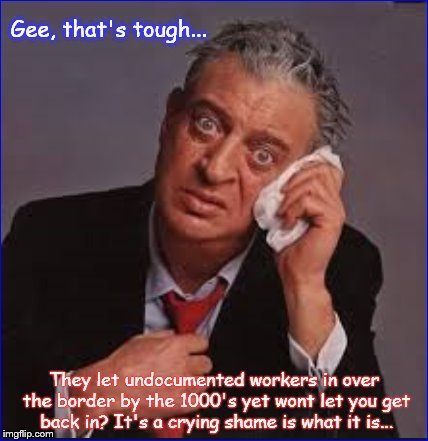 .
.
AMERICA IS IN LA-LA LAND   😦
.
Michael Snyder
End Of The American Dream
February 24, 2015
Should Iran be permitted to build as many nuclear bombs as it wants just a decade from now?  Shockingly, this is precisely what the "deal" that the Obama administration is currently negotiating would allow Iran to do.  Even the Washington Post, an enthusiastic cheerleader for Obama all these years, says that this deal is the equivalent of "Giving Iran everything it wants".  Sadly, ever since negotiations with Iran began several years ago, the stance of the Obama administration has been to retreat, retreat and then retreat some more.  Back in 2005, the western world was insisting that Iran was not going to be allowed to have any centrifuges at all.
But now we are going to allow Iran to keep all of the nuclear infrastructure that it has built up, and a decade from now it will be allowed to start building nuclear weapons.  This is a country that is run by genocidal Islamic fanatics that consider the United States to be "The Great Satan" (Adversary) and that wants to wipe the nation of Israel off the face of the planet.  Under no circumstances should Iran ever be allowed to build even a single nuclear weapon.  If Obama goes through with this deal, he is betraying the United States, Israel and the entire western world.
.

  Et.Tu.Britass (To) Responder. • 19 minutes ago
Plutonium-ion gas-battery tech Slick Willy illegally gave China in a swap for access to China's rare-earth minerals (Essential to all modern WMD's) and as an attempt to outmanoeuvre Russia by giving the British monarchy the potential use of China as a chess piece to counter any growing Russian WMD power, plus US Zionists being in fear of a payback for America's Chernobyl attack, are the power source for the type of weapons that Iran seeks thru developing the gas-centrifuge technology ~ Sure, you 'CAN' use the gas centrifuge to create nuclear bombs, yet what it's really for is high yield short cycle batteries that power things like phased plasma rail guns, kinetic energy weapons that mimic meteorite strikes at 18 klms per sec with a 1\2 mile run up (Really) as well as powering simple directed energy (Laser) weapons ~
,
Put simply, "Nuclear weapons are soo yesterday" ~ (Ahmadinejad) ~
(Some have stated that a kinetic-energy weapon is what hit Fukishima) ~
(Not an earthquake or tidal-wave ~ It's what actually hit that reactor) ~
.
And yes, Iran never said it wanted Israel wiped off the map as some US Zionists keep on parroting like they're Mengele-bred clones of Zionist Mason Benny Netanyahu or they're toddlers who haven't yet learnt to say 'MY NAPPY IS SHITTY MAW' ~ Iran not only never said that they wanted Israel wiped off of the map, the reality is many of the past and present leading Iranian rulers are of indirect Jewish descent ~
.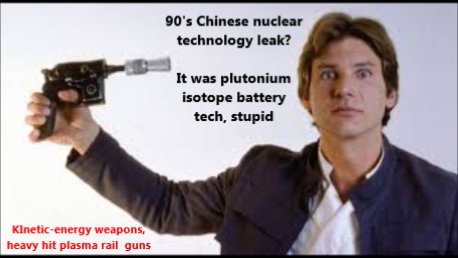 .
AMERIKA IS IN LA-LA LAND   😦
IT'S ZIONIST MASONS DID IT   😦
.
.
.