This'll require some deep thought  😉
Paul Craig Roberts
Prison Planet.com
May 14, 2015
This is what the arrogant morons who comprise the US government have stirred up:
Watch this video for its entire 1 hour 20 minutes, and then ask yourself if Washington is making a good decision by driving us into conflict with Russia. Americans, being an insouciant people, are unaware that it was Russians, not England's Wellington, who defeated Napoleon. The Grande Army did not return from Russia.
The loss broke the back of French military power. The German Wehrmacht, which in a few days overran France and drove the British off the continent, was destroyed in Russia by the Red Army. The allied invasion of Normandy encountered only a few under-strength German units deprived of fuel. The German army and all available resources were on the Russian front.
.
Little bit of a snaky whinge and telling a few strange-tales out of class here 😦
.
"A SNITCH IN TIME SAVES NINE" ~ That's (Not) an old intelligence proverb from the 60's back when a few shady characters run by even shadier characters were sticking a stolen US nuke under congress and floating the Cuban Missile Crisis with Russia's help as a smoke screen ~ That was also back when Pommy spy Kim Philby was supposedly sent to Russia by Her British Majesty's (Secretly Zionist) government as a strikingly successful honey-bum entrapment agent for a Russian named Alexei Nikolayevich Kosygin whom the queen wanted to become a queen (Snicker) so the Russian political machine could all be entrapped like America already largely was 😦
.
Of-course the plot (Gambit) succeeded miserably (Ha-Ha-Ha) tho as a consequence nearly everyone straight away began to all rightly or wrongly (Snicker) assume all Pommies from the palace on down were all queer any time "Horse Guards" were guarding something, if not just assuming it was only all Pommy spies that were queer and everyone else in the world was (Mostly) vaguely normal ~ Things didn't get back to normal quickly with everybody assuming (Wrongly) they were mostly hetero, and it wasn't until Gorbachev and Reagan (Never) sat together holding hands at Camp David late one (Unofficial) night that everything truly began to all get back to normal (Bent) in Rus-British relations as everyone thought they were straight  😉
After Sean Connery bit the bullet in his task of restoring the illusion of lots and lots of happily heterosexual Russian and American diplomats and politicians talking common sober and sometimes chaste Christian sense to each other to keep the world away from a nuclear catastrophe, most people thought international psychopaths and sociopaths were either so rare you'd only ever see them in a James Bond movie or perhaps in the bible, tho in the context of what's normal and what's not the world orbits around secretly Zionist Masonic psychopaths, not the star we call our sun like you thought, so  please don't forget that all thru the Cold War the 1000's upon 1000's of tons of gold that illegitimate bio-Jew secret Astor Adolf Hitler had stolen for the American Zionist kings had sat in compounds at 'ODESSA' in Ukraine and were safely guarded by secretly Zionist Masons Stalin und (sic) Khrushchev til 1973 😦
.
That's when the US Fed and to a lessor extent the British banks got nearly 'ALL' of the gold to do the Reaganomics junk bond thing ~ It was touch and go for a while, yet once Sean Connery had his 2nd film "FROM RUSSIA WITH LOVE" in the public mind after his patriotic (Highly paid) response to his nation's request for him to use his terribly sext deep Scottish voice in the service of Ye olde England to stop everyone thinking all Poms were queer and effeminate, that England felt secure enough in it's manhood to allow Philby to go ahead with the (Attempted) honeypot seduction of Kosygin behind the scenes in what amounted to a Masonic political blackmail sting over queers & little boys on film ~ These are the secret dynamics that 'REALLY' run your world, despite what FOX's 'WOLF BLATHER' and CNN's 'MELANIE KLOBUCHAR' (sic) imply 😦
.
Stranger things have occurred in history that you've never yet heard about, like that nuke under congress 95% of America is still not up to speed over ~ Myself, I'm mostly just annoyed about lesser matters than all of that most of the time, like a few fcuking tumours that are painfully killing me, but that's not really very important is it  😦
All up that's a largely true (True-ish) and deliberately incomplete Cold War spy story there about the homosexual honeypot thing as well as the stolen nuke under congress as well as the dirty stinking rotten Commies (?) as America's often sly deceptive conspiratorial Masonic politicians often called them throughout the Cold War, and all while Russia's political masters were obeying 'SOMEONE' thus far unidentified by guarding the gold for the US Fed, and more than once each side was often literally sleeping with the enemy right thru a war, as was the case ever since WW2 😦
Although you'd think otherwise from media coverage when it comes to the Pom and American diplomats and politicians, they're mostly 'STILL' shit-lifters (Queers) and are still lying to all of you about what's really gone down and been going down about anything at all you'd care to name from WW2 onwards, ergo the 911 sham and the idiocy of that story of radical Muslim Cessna pilots skilfully flying 757's like an angry invisible Abrahamic cosmic magician was helping them  😉
Picture some little 12-14 y\o boys in the Bond-intro and you're closer to reality  😦
Excuse the shtick, but I'm hinting at a culture of warped-sex & blackmail here 😦
Nothing runs like you think it does, well, most of you think it does ~ Wake-up  😦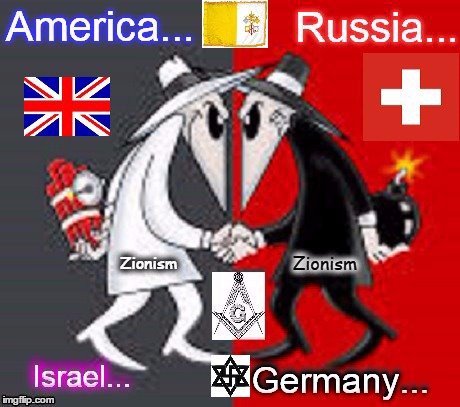 .
Try a 100% Amnesty for 55+ years of treason   😦
.
.
.
Sputnik News
May 13, 2015
BEIJING (Sputnik) — Several media reports emerged on Tuesday that US Defense Secretary Ash Carter was considering expanding military patrols around the Spratly Islands, an archipelago off the Philippine, Malaysian and Vietnamese coasts. The islands, thought to hold potentially significant oil and gas reserves, are claimed by China, Taiwan, Malaysia, Brunei, the Philippines and Vietnam. "We are deeply concerned about the US remarks. The US side must clarify this," Hua Chunying said at a daily press conference in Beijing.
.
.