.
Host claimed billionaire philanthropist has "his tentacles into political organizations"
Adan Salazar
Prison Planet.com
March 20, 2015
Soros and his International Crisis Group played a role in the campaign which sought to galvanize public support behind the US military's invasion of Africa. The same group authored the Responsibility to Protect, "the military doctrine used by Obama to justify the U.S.-led NATO campaign in Libya," according to World Net Daily researcher Aaron Klein. Earlier this year we learned Soros' Open Society Foundations, a group he chairs, contributed $33 million towards emboldening activists in Ferguson, Missouri, helping make the flawed "Hands up, don't shoot" mantra ubiquitous.
The way Soros uses his money and various groups' influence to sow discord and manipulate political climates is similar to – yes – the way a puppeteer, otherwise known as a "puppet master," controls a marionette.
.
.
Seems that my small contribution to troublemaking, often yet not always limited to suggesting a mechanism where anyone and everyone could come clean about what they've done plus what they knew without any fear of reprisals other than someone they'd blabbed about then killing them for it, is actually deemed as a threat to the 'SAFETY & SECURITY OF THE AMERICAN PEOPLE' even tho I'm merely raising positive doable perspectives every few blogs I'll post after mocking American Govt in between being the Marianas Trench smartass ~ There actually are some people who'd risk all to come clean too if given a viable opportunity where they could have more than a 50-50 chance of at least surviving it and achieving something decent  😦
PRETTY FCUKING CRAZY HUH?  
😦
REAL TROUBLEMAKER RIGHT?  
😦
.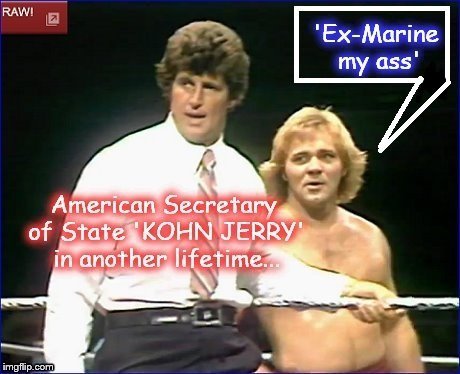 .
BTW that is 100% certain 'NOT' to be the ex American Vietnam War Marine Veteran and US Senator known as 'JOHN KERRY' above and yet, is also 100% certain to be the current US Secretary of State who uses that name and that persona, and no matter what denials or snubs are raised against that fact it's simply a 100% true statement on both points, so your govt is lying to you large ~ Get real, America, get real  😦
.
Sputnik
March 20, 2015
Public Relations and Communications experts are to begin working by the end of March in Brussels — the end goal is to counter the Kremlin. The EU says Russia is deliberately distributing misinformation surrounding Moscow's aim in Ukraine and Europe. EU foreign policy chief Federica Mogherini has been set the task of finalising the plan by the end of June. A statement issued following a meeting amongst the leaders "stressed the need to challenge Russia's ongoing disinformation campaigns".
.