.
"American people are quite fond of the royal family"

Steve Watson
Prisonplanet.com
March 19, 2015
March 19, 2015?   😉
March 19, 2015?   😉
March 19, 2015?   😉
.
In a cringe inducing display, the President buttered up Britain's Prince Charles yesterday during a meeting in which the future British monarch lobbied Obama on climate change.
While photographers and reporters were being ushered into the Oval Office, a groveling Obama leant over to Charles and noted "It's fair to say that the American people are quite fond of the royal family." ~ "That's awfully nice to know," Charles replied. "They like them much better than they like their own politicians," Obama smugly added, to which the Prince responded "I don't believe that." The President then declined to answer a question from a reporter regarding Israeli Prime Minister Benjamin Netanyahu. (What colour jocks does he wear?)  😉
.
.
Listening to congress can be a little-bit depressing without the right attitude 😉
Listening to Washington about 'ANYTHING' requires a little bot of mockery 😉
.
.
If you asked meeeeeeee (No-one did) someone got "AMERICA" (Snicker) to go all 'AMERICAQ' (sic) and stick it's gearbox into both forward and reverse at the same time during the 2004 "ON MESSAGE" moment and, well, you're letting govt tell you what to think about everything 24\7 which is fine for fascists, except supposedly you're not fascists are you America ~ You're meant to be a constitutional republic, or a kind of a democracy according to some congressional lady on CSpan now 😉
.
(Indiana Republican Congresswoman Susan Brooks) ~ (Seig Heil bitch) ~
MASONIC TREASON   😦
(Sound political strategic perspectives)   😉
.
Border agent blows lid off of DHS cover-up
Jon Bowne
Prison Planet.com
March 20, 2015
A border patrol agent has testified that the Department of Homeland Security is deliberately fudging data to hoodwink the American public into believing that the border is secure, when in reality it is overrun, with 60 percent of all illegal crossers going uncaptured. Breitbart news has acquired an advance of senior research fellow Heritage foundation Robert Rector's upcoming testimony before the House Oversight and Government Reform Committee. The lifetime costs of Social Security and Medicare benefits of illegal immigrant beneficiaries of President Obama's executive amnesty would be well over a trillion dollars.
.
Some guys says "Who's gonna stop-it?"   😉
And another says "We're gonna stop-it"   😉
.
This is the WE Elmo:
It is time for the Wimps who way "Oh, we are so helpless" to get off their butts and join the Courageous. Who is talking about overthrowing the Government Elmo? We are going to GET RID OF THE CORRUPTION AND RESTORE THE UNITED STATES CONSTITUTION: WHICH IS THE SUPREME LAW OF THE UNITED STATES.
.
Oh please those college kids aren't going to do anything when they get a good ass kicking in an alley one night. And talking about getting rid of the corruption involves overthrowing the government. So let's not play word games. You know exactly what is required to rid the country of corruption and to restore Constitutional order. And its next to impossible to do that with the way things are structured in the 21st century.
.
It's a matter of 'TRUTH VERSUS LIES' ~ And you're partially right about most college kids having no way to come back from a good ass-kicking in an alley ~ Take the Christ for example when it comes to those who 'DO' know how to hit back ~ He could have done the Maccabee thing and maybe caused a minor kerfuffle for 200 years, but instead he sat down, then thought thru his anarchic principles and what he was going to achieve with them and how he was going to do it, then set the NWO back over 1000 years by structuring 'HIS' response within the religious lies of the day with an idea to empower people to believe in themselves rather than the state and\or religion ~
Some may think he just went with it but how wrong you are  😉
He structured his teachings to empower all the little people  😉
IT'S TRUTH VERSUS LIES FOOLS   😦
Journey of a 1000 mls starts by tying your shoelaces  😉
.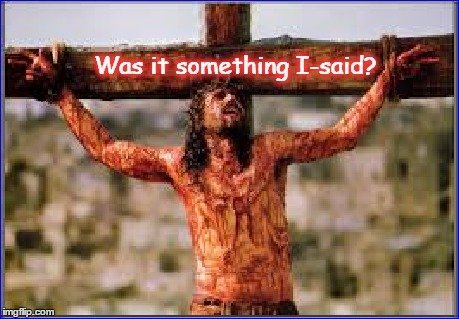 .
WARNING AMERICA   😦
"Lying about the past is not 'MOVING FORWARD' any way you look at it" cause it's just another act of treason on top of the previous acts of treason as those who pulled the treason seek to avoid any kind of accountability or responsibility to tell the truth about anything ~ Solzhenitsyn once said "What you allow soon becomes the norm, and in the future the norm is always exceeded" ~ In other words, you accept it, you get more of it ~ You're a day closer to your next false flag, and the people that did the previous one have literally created a 'MEDIA INDUSTRY' solely dedicated to lying about it, then trying to tell you that means you're 'MOVING FORWARD' right? 😦
.
You can't even tell the truth over who killed JFK yet can you 😦
It was 'CHENEY & RUMSFELD' in case you all never knew 😦
.
.
It took 2000 Masons to pull 911   😦
It took 12,000 to cover-it all up   😦
.
It was once explained to me in 1962 in great depth by the American born lookalike half brother of America's German-born 41st President, that 'ALL' major politics in the US and indeed worldwide revolves around the use of various Machiavellian forms of political blackmail to achieve the outcomes Masonic Zionism desires ~ Both went by the name of "George H W Bush" by the way, often creating alibi's for each other as they worked off books for CIA doing various crimes for Zion, with your bisexual German born eventual 41st President especially doing the murders of men and children of either sex and the American born totally gay 'GHW' (Really) killing the women whom Zion had slated for termination in their warped political goals ~
.
It's a type of political blackmail Masonic Zionism can't get by without and that always starts with a sexual peccadillo, preferably with someone of the same sex, then quickly moves onto things like filmed paedophilia whether naturally occurring or induced thru drugs and brainwashing, then once that is achieved they lay off for a bit, get the person to relax and feel they're in the clique, hook them with some financial fraud type of crime that could easily bring heavy gaol time in front of a judge who obeys Zion (They all do) then slowly draws them deeper and deeper into the trap ~
.
This is your 'REAL WORLD' as far as politics goes America, so either get real about it and start thinking tactically and strategically like you're in a war where it's mostly the decent who die (You are) or just stop pretending and start growing daisies out of your butt's like the girly-girls you'll soon have to be if Zion gets it's final goal  😉
.
Masonry has always been Zionism  😦
.
It's always been the Masonic Lodge under the control of British monarchs who ran everything since the Civil War (Both sides) and the 'BOSS TWEED' rort after which netted the International Masons (Zionists) running both North and South $100 Million amounting to around $1 to $8 Trillion in today's money to derail every single country on the planet, including Russia ~ What to do about it for the future? ~ Well that's your business America, tho for a start you might stop lying for them just to 'GET AHEAD' as you all call it ~ You'll find the fuller Tammany House (Birthplace of the Democrats) Masonic Lodge story about Boss Tweed's massive theft of Civil War taxes in blogs on this site plus links to another, with follow-up info on how that became in turn Tunguska, the theft of Russia's gold bullion for the creation of the US Fed, the 1929 Wall St rort which financed Nazism, the rape of Europe and the theft of it's gold bullion which was stored at 'ODESSA' until the (Illegal) 1973 US Fed so called Chinese gold loan, which then became Reaganomics, junk bonds, the deindustrialisation of America, then eventually indirectly financed the corruption of all levels of American society enabling the organisation of the 911 Zionist 'Coup D'Etat' attacks, in part thru the money power aided by the highly institutionalised extremely well organised conspiratorial Masonic Zionist political blackmail process described above, and now here you are with nearly every Mason in America owing their soul to Zionist fascism in part run by the British monarch on behalf of vague Zionist powers in Switzerland and whatever it is they themselves serve behind the veil in the real world ~ (Phew!) ~
.
Without a 100% amnesty for treason, truth in America is 100% dead   😦
.
Anyway tho America, just stop fcuking lying for them, alright fools?   😦
.
And your ruling Jews say I'm "Just a joker?" 😉
Well you're pretty fcuking funny yourselves  😉
.
They get 'AGENT-GUMBY' to run it sometimes, don't they? 😉
.
.
150 years of Masonic treason  
😦
Better get up to speed on it  
😦
READ-ON, SUCKERS   😉
.
http://spacelizardlaw.com/2014/04/20/quantico-west-point-viagra-patriotism/