.
Governments, households in more debt than before Great Recession!
Kit Daniels
Prison Planet.com
February 6, 2015
Total global debt is now a record $199 trillion, an increase of $57 trillion since the Great Recession, raising concerns a deep depression is coming.
Government, corporate and household debt have exploded at least 47 countries and "all major economies today have higher levels of borrowing relative to GDP than they did in 2007," according to a report by McKinsey & Company."After the 2008 financial crisis and the longest and deepest global recession since World War II, it was widely expected that the world's economies would deleverage. It has not happened," the report stated. "Instead, debt continues to grow in nearly all countries, in both absolute terms and relative to GDP." The report house that 80% of all countries have higher household debt, government debt is up $25 trillion since the Great Recession and China's debt has quadrupled in the past eight years.
.
It's all Jew usury which they run via their hidden hand within world Masonry, the same Masonry behind every major war in the last 400 years ~ Twas on the Alex Jones x Bill Hicks show that I'd first heard people 'DIS' the standard lies of anything monetary in 2006 ~ Elsewhere, actually in the 'MSM' on radio I'd heard that the $18 Trillion US Fed deficit was literally money borrowed to pay the interest on the debt they accrued after the (Illegal) 1973 US Fed fake Chinese gold loan, a line which the old "Prison Planet" show then took up ~ That 1973 US Fed gold loan which funded Reaganomics and the de-industrialisation of the American economy was in itself the looted European gold which Communist Masons Stalin and Khrushchev guarded at 'ODESSA' all thru the Cold War, all simply WW2 gold looted from Europe by the Nazis which the Masonic Zionist owners of the US Fed financed from the money they asset stripped from Wall St in the 1929 crash ~ My point? ~
I'm calling bullshit on every single position World Masonry has taken, including the fact that US debt is only $18 Trillion, cause that's merely how much they borrow each year to pay the interest on what they previously borrowed ~ Just remember you mockers, this is ancient wisdom in action, and 'THE LORD' reigns in Zion ~
.
How long will the illuminated powers-that-be continue to jerk you jerks off? ~
The powers-that-be (TPTB) are the Zionists ~ They're World Zionist Masonry ~
.
Twice they're brought world war ~ They'll kill you if you don't do what they tell you, and they'll kill you anyway even if you do ~ Thing is, if you do what they tell you, they'll likely wind up owning your soul and you'll likely be damned with them ~
.
Most people don't understand 'ZIONISM' is a 12,000 y\o power structure that started the Jew thing with a liar thief and murderer called Abram 4000 odd years ago, and within 400 years his offspring multiplied, killed all of Egypt's firstborn, then stole 'ALL' of their gold silver and jewellery as they left, claiming some cock and bull story that an invisible omnipotent omnipresent cosmic magi called 'YHWH' whose name they couldn't pronounce (Convenient for a superstitious time) had killed all Egypt's firstborn and told them to steal all of their riches ~ Chinese Han themselves were of the 10 tribe diaspora as were the Normans ~ Masonry was started in the 1600's from the feudal refuse of the secretly Zionist Norman nobles thru the stolen gold bullion which said Normans looted from the Vatican in 1084 and from Mid East during the Zionist run Xtian crusades ~ Nowadays Masonry is nothing but a cancerous pox on humanity that is used by World Zionism to commit and then cover up every form of lie theft genocide or simple murder they wish, as with the Iraq war where their sole successful "MISSION ACCOMPLISHED" goal was to use the punked US Military to steal the massive amounts of gold Hussein had amassed under the guise of somehow fighting world Muslim terror ~ "FOR THE LORD DOTH REIGN IN ZION" and the lord is nothing but a lying thieving murdering criminal Jew cnut with a stupid story about omnipotent omnipresent angry invisible cosmic magicians ~
.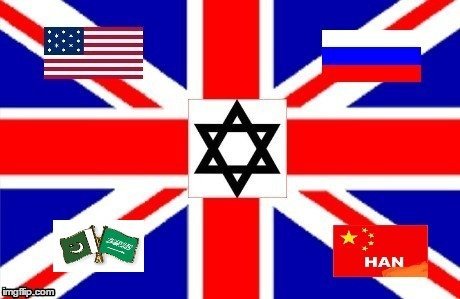 .
.
Time to liquidate the Zombie banks via bankruptcy.
And arrest the corporate 'officers'
.
Sure ~ Better arrest the omnipotent omnipresent omniscient angry invisible cosmic magician called 'YHWH' too cause he's the ringleader of this band of happy Zionist banker fascists ~ Heh-Heh ~ Want to arrest him coppers? 😉
.
Here's what could go down ~ "Calling all cars, calling all cars, be on the look out for an angry invisible omnipotent omnipresent Jewish cosmic magician called 'YHWH' who was last 'SEEN' (Snicker) at the centre of every single gold heist since the Normans stole the Vatican gold in 1084″ ~
.
"If you 'SEE' (Snicker) this angry invisible omnipotent omnipresent cosmic magi do 'NOT' approach him ~ He's known to have spooky powers and can call fire out of thin air and eternally damn people to hellfire any time they fail to believe in him ~ If you 'SEE' (sic) this invisible cosmic magician just report his whereabouts to the local priest rabbi or mullah, then seek cover" 😉
.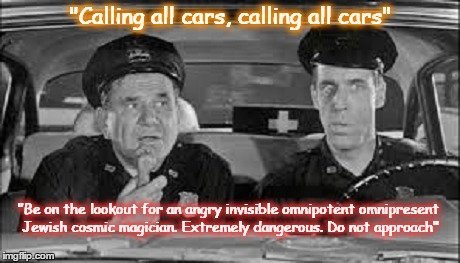 .
.
Zionist Masonry pulled 911   😦
.
Like everything else Jewish, their whole religion is based around a lie, and it's a lie that rapes steals kills and commits genocide in the name of their god, yet here's the catch ~ The Jewish 'GOD' is in their minds, and the Jewish devil is in their hearts, and the Jewish god and devil battle it out in the human groin ~ They're a cancer in humanity's ass and nothing more, and it's all they've ever been   😦
.
.