.
ZIONIST TREASON EVERYWHERE  😦
(The Ukraine crisis has been settled, all US Masonic-Zionists are lying)  😦
LEARN SHIT WHILE YOU CAN   😦
.
Sputnik
April 25, 2015
It seems to be only a matter of time until the next military escalation, a German magazine wrote.
While warring parties are trying to stick to the provisions of the Minsk agreement, preparations for a potential new conflict are running in the background, Deutsche Wirtschafts Nachrichten wrote. The article mentioned the so called "war of words" or propaganda war which is currently taking place backstage. US envoy Geoffrey Pyatt tweets almost incessantly about new alleged threats. Most recently, he wrote that Russians had deployed new BUK-air defense systems in Donbass, the article said. According to the Deutsche Wirtschafts Nachrichten, the US government is interested in the continuation of the Ukrainian crisis. Americans want to use Ukraine to make the EU aware of its dependence on Russia in the energy sector.
The US is trying to move Russia aside from the European market. Russia's plans to transport its natural gas through Turkey to Europe are not in line with the interests of the United States. It's a race against time, in which Russians would benefit from a stable situation more than the United States, the article said. Lately, Russia has often been described as a state on the path to fascism, what is frequently used as a justification for weapons' supplies to a number of Russia's neighbors. France has just sold helicopters to Poland, while Ukraine, which is virtually bankrupt, is planning to purchase H125 helicopters and technical equipment. The logic is: everything can be done to "prevent fascism".  But little is said about the fact that the costs for this are borne by American and European taxpayers.
.
Anyone with true knowledge rather than rote-learned incomplete factoids, would be able to point out to you that Jews were a creation of 12,000 y\o Zionism, Masonry a creation of British Israelite feudal European Jews who'd anglicised their names 400 odd years ago when the various secret society ex-Templar gold-theft cults changed their name to become the Freemasons, were the ones who created financed and ultimately controlled German-Nazi French Italian & Spanish fascism ~
.
No matter "WHAT' denials are issued, it's a sad fact of life that both Adolf Hitler and Adolph Eichmann were descended from American Astor's who'd sowed their seed far from home in Zion's grand master plan, with Eichmann himself born in Palestine in a Templar colony and being a fluent Jewish speaker, and as for the Fuhrer, rather than a crap Rothschild story, the reality is he also descends from Astor's ~
.
The Astor's in turn descend from the Zionist Stuart kings of feudal Europe ~
Anyone with 1\2 a brain can see globalism and fascism is simple feudalism ~
.
Wake-up before you die ~ "Get Smart" now or die stupid you bloody fools ~
The US Fed even financed German National Socialism you fcuking idiots ~
.
Then the Nazis looted Europe's gold and the US Fed got it back in 1973 ~
It didn't end there tho ~ "German-George 41's Son" helped steal it ~
.
If we had a real government and not this Khazarian terror assassin government, we would be helping country's not destroying them.
.

Heil Hitler!
(To)
Billo
•
21 hours ago
ISIS = Khazar = Kiev junta = Zionist IMF coup
–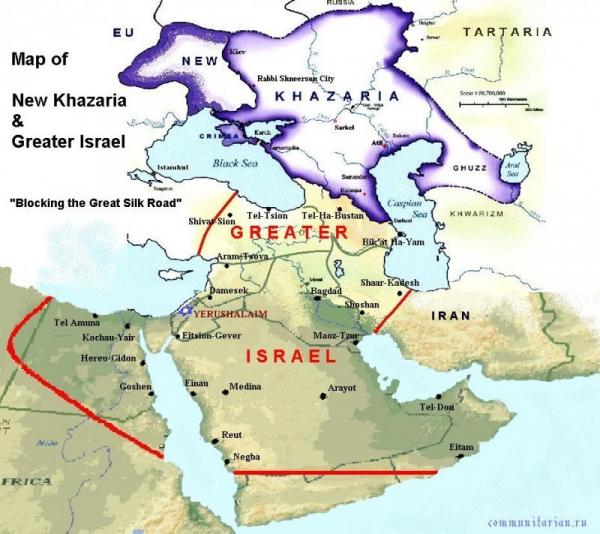 .
.

Et.Tu.Britass
(To)
Heil Hitler!
•
an hour ago
International Freemasonry has a record going back 400+ years under their present name and 600+ years under previous names like those Templar's and their forebear's the Norman Conquerors of screwing every single nation continent religious concept and even economic reality it's ever crossed ~ Even China, where early Templar secret society member Marco Polo was able to further screw up China by advising the Han how to advance small minded short term power at the cost of the right to rule in the world of the Chinese as a whole and then Han themselves thru them using the Green Dragon Society as a kind of useful idiot to achieve the will of Western Zionism and keep China underdeveloped in relation to the west, a policy which created massive grief and pointless loss all of the way thru ~ Still folks, everything's wonderful, it's all back to normal now, in every nation Masonic secret societies are ensconced and are at each other's throats behind the scenes and into each other's metrosexual pants beneath the sheets as they pursue particularly Zionist forms of enlightenment  😦
Welcome to the world of 'ANCIENT WISDOM' now planet earth, the same ancient wisdom that's kept all true peace from the world for 12,000+ years already while only ever promoting liars thieves and murderers to do the will of the illuminated 😦
.
Ich bin der Orden des Drachen, Hussitischen Orthodoxen Christlich… Satanismus ist eine jüdische Kult…
.
I'm not much good at speaking German, yet without using the evil Googler I'd assume you were claiming Satanism was a Judan Cult and as I'm of Jewish German Nazi blood myself and have personally seen Americans descended from German Zionist Jews torture 9 black babies + five older black children to death in a pedo blackmail cult CIA ran in Australia back in the 60's, in front of me as a child myself to terrorise me, I'd say screw the Jews, screw their Zionist creators, screw humanity's real world scientific creators (Coneheads) and screw the entire new eugenic creation of humanity (Mengele's work) which are half human abominations if they're anything like their human creators, or worse ~ "Der Apfel ist faul, weil der Baum es kam faul ist, und der Lauf ist faul, weil alle Äpfel waren" … (The apple is rotten because the tree it came from is rotten, and the barrel is rotten because all of the apples were)  😦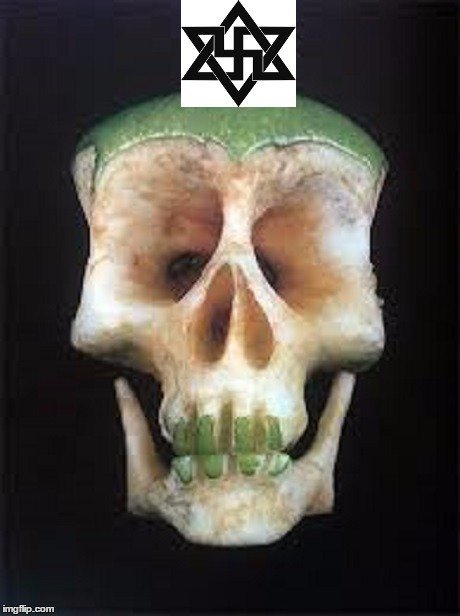 .
.
Sputnik
April 24, 2015
The United States is behind all recent and ongoing armed conflicts across the globe, a senior Russian General Staff official said Friday. "The United States has single-handedly masterminded all military conflicts. Today the Western countries have positioned themselves as the main 'architects' of the international relations and the United States as the only superpower in the world," Lt. Gen. Andrei Kartapolov, the head of the General Staff's Main Operations Directorate, said. Kartapolov added that the US role as the world's leading nation was part of US President Barack Obama's updated national security strategy, released in February. "The course that the White House has been pursuing to systematically contain Russia stems from the United States' strategic goal to preserve its leading geopolitical and economic positions at all costs, to preempt the establishment of new centers of power." The Lieutenant General also said that the United States and their allies have used military force more than 50 times over the past decade, adding that six US operations ended in local armed conflicts.
.
I don't think you need to be a Russian General to know that. It's a widely held belief around the entire rest of the world. But, not in the United States, with its controlled "main stream" media, of course. The American public is always left scratching their heads over what the CIA refers to as the "blow back". "Why do they hate us so much? It must be for our freedom".
.
I-once offered to help them get out of their trap ~ Had the skills, picked up on the requisite knowledge, was acquainted with the right wisdom that could pull it off without digging the hole deeper within the traps the builders built into it all to be certain no one could undo it, yet the various illuminated ppl I'd made the offer to thought that them their children 'AND ME' staying in the trap was a remarkable piece of ancient Masonic wisdom that would also sure teach me a thing or two 😉
Meanwhile Jupiter (Jove) orbits Uranus in 'THEIR' droll minds 😉
.
"Ye are of your Father the devil, and 'HIS' works ye will do, he was a liar and a thief and a murderer from the beginning ~ When he speaketh a lie a only speaks of what is within him, because he was a liar from the beginning"  😦
There's something very deep dark truthful and accurate in that shortish silly little vaguely accurate combination of two scriptures of Christ immediately above here and in the comment of mine above that, something which would (Will?) take a hell of a lot of real faith to honestly inquire into both spiritually and intellectually ~ To do this, you'll need to take a step of faith in questioning the existence of an angry invisible omnipotent omnipresent Abrahamic cosmic magician Jews and Masons call 'GOD' in the vernacular of our deluded age, always (Publically) declaring a belief in such yet, behind closed doors, contemptuously mocking any of you who actually do believe, or at least think you do because that's what you 'THINK' that Moses Elijah Christ and other murdered prophets said cause it's what you've been told they meant  😉
Lets start with that little (Big) story Moses put in the Book of Genesis about Abram sacrificing a child to 'THE LORD' as he (It) is often called ~ Question it, critique it, don't take it as if it's the whole story yet don't dismiss it in it's entirety either as it's highly probable that the half Egyptian half Jew mystical prophet you call Moses probably paid with his life for putting that little story in there about the patriarch Abram's proclivity to sacrificing Children to his 'GAWD' whom we presume goes by the Non Deplume of the 'LAWD' ~ Gawd Almighty (sic) of Israel  😦
THINK BEFORE YOU DIE FOOLS   😦
YOU'LL HAVE NO BRAIN AFTER   😉
.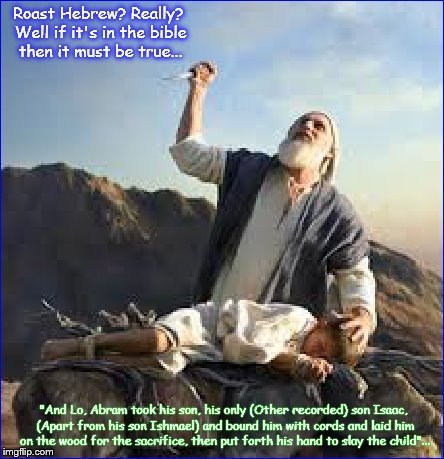 .
The habit of sacrificing humans in ritual cannibalistic murder, especially kids and babies because of their pureness of heart is merely a sick psychological disease which the 4000 y\o Jewish sect inherited from a 12,000 y\o Zionist sect which precedes and which, behind the scenes still rules this world from it's mostly Jewish (95+%) descent creation, Masonry, has always followed while deceptively pretending anything other than that ~ What I'm saying here, among other things you can glean from the posts which precede it below is that the greater % of (Us) Jews, around 9,999 out of every 10,000, were born of a liar thief and a murderer called Abram who was blessed with a gift for the more evil forms of occult and (Was) used by what ruled the world prior to Jews to create the biggest con job in history, the angry invisible god who bothy loves you and hates you according to whether you believe his lie or not ~ Nothing was 'EVER' what it seemed in this whole 4000+ year sham although some Jews with nice mothers tried hard to turn it into something truthful, usually failing miserable  😦
You can take it from me that another of Abram's slave boy son's died that day in ritual kabala sexual death murder in Isaac's place, and the boy was then cooked up and eaten in worship of what Abram really worshipped which, in case you're rather slow, was obviously some kind of deity not easily offended by human sacrifice or cooking the sacrifice after that to eat it ~ There's the original murderer there yet some (Of us) Jews don't go along with it ~ A lot do tho, because all of the stories you may have heard about it are true, with 9 babies + 5 older kids literally tortured to death in sacrificial ritual torture murder in front of me in the 60's, with six others killed and two dissected right in front of me in real time, literally gutted and decapitated, butchered like lambs in preparation for the carcase being roasted  😦
Now here's the thing here, you'll need to think a little and connect the dots, because prior to Israel leaving Egypt with 'ALL' of their gold silver and Jewellery, all of the Egyptian's first born were killed, they claim it was their god that did it, and, well, wake up you damned fools ~ Moses himself, Moses the half Egyptian, may have had torn loyalties and could easily have been more than a little bitter at the way the land of his birth was treated, and please, no slave race anywhere in the history of this world has ever once 'BORROWED THEIR MASTER'S GOLD' so that bit is almost a deliberate idiocy to guide you to a truth, that truth being that the Jews weren't themselves slaves and the angry invisible omnipotent cosmic magician didn't kill the first born, Israel murdered the firstborn in ritual murders and stole the gold much like they've done everywhere ever since ~ Moses was literally murdered for placing those stories in his book, creating as it were the modern world's first piece of modern truthful journalism and, like many journalists today, he died of it  🙂
Allow me to make this even plainer for you ~ Like the Jewish prophets Elijah and the Christ, you need to stop pretending that questioning the status quo of a widely held belief is the opposite of having faith because the exact reverse is really true  😉
Moses the prophet 'HAD NO HABEAS CORPUS'  because after his death his corpse was butchered cooked and eaten by those in his community following Abram's example and that's the way it still goes down ~ If their angry invisible omnipotent omnipresent ruler of the universe were in the least bit real and not merely a figment of their warped mind seeking to connect with the souls of those who also died warped in times past thru human sacrifice rituals seeking to empower their so called 'GODS' (Sic) then he'd need no one to worship him (Them) and no one to sacrifice children babies or adults to him, and certainly no need his followers to lie cheat steal gold and rape the world's sensibilities, as according to them he rules the known 13.5 billion light year wide universe along with it's 47+ billion light year distant Hubble Deep Field Galaxies (sic) without need of human input ~ In summarising this bit on ethics morality and Judeo Xtian standards of religious truth, keep in mind the (Recent) crimes of America's secretly Zionist Masonic political machine both on it's own nation since Rumsfeld and Cheney whacked 'JFK' from the Grassy Knoll, as well as it's crimes of murder genocide and theft of gold bullion in South East Asia and the Middle East etcetera, just remember which deity they all merely 'PRETEND' to believe in like they merely pretend to believe in patriotism, then simply accept that there's no way I'd ever seek to imply there is no truthful logical rational sane righteous order in this galaxy we're stuck here in, "Tho obviously there's bugger-all on earth"  😉
They're lying to you and they're lying large  😦
The last 100 years alone, with the grief of China Africa and Russia along with the total chaos and madness in Europe prove beyond all doubt that the only true skill those who rule us behind the scenes (Masonic Zionists) possess is the ability to come up with complicated lies that lead us into monumental fcuk-ups, and then even more complicated and convoluted lies that hide the real culprits who literally plan all of this stuff they call 'ANCIENT WISDOM' well over 50+ years ahead, their main goal being to stay in political power to avoid any and all possible accountability for what they've caused ~ In effect, this means the only true wisdom they have is the ability to lie to obfuscate what they've done and why, in the process effectively destroying the decade ahead with lies needed to hide what they really did in the 5 previous  😦
They're as trapped within this cycle of stupidity as we are, yet theirs is a choice made, so they claim, out of the abundance of their ancient (Feudal) wisdom, while ours is merely what we, as feudal subjects of Zion, deserve for being born outside of their demonic inbred circles of Luciferin occult  ~ Again, their entire system only concerns itself with the maintenance of existing power and the pursuit of even more  😦
.
IS TRUTH DEAD YET?  😦
SMELLS THAT WAY  😉
.
To recap, here's the basic timeline of your (Secretly Zionist) Masonic Lodge's treason in America since the Civil War when all states were under the control of Mason's who were themselves under the control of Grand Lodge in England, including, so I'd read, all Southern military generals members of the Masonic 'KKK' or the Order of the Golden Circle as it's also known, as well as everyone in the war cabinet of the North except for Lincoln and Seward who were members of a different Masonic Lodge also under the control of Grand Lodge United in mother London  😦
Tammany House Masonic Lodge head "Boss Tweed" steals the equivalent of $1 to $8 Trillion in cash bearer bonds, that goes to Europe, Tweed has a double gaoled in his place, the money finances the 'TUNGUSKA' experiments producing the world's first crude nuclear explosion, that's used by Masonic cousins Czar Nicholas the Kaiser and King George to steal Russia's gold which is then used to create the US Federal Reserve central bank, the Fed pumps Wall St and asset strips it in 1929 to fund German National Socialism to loot all of Europe's gold under Astor descendant Adolf Hitler who was far more worried about a (Nuclear) device his Masonic Zionist financiers had placed in Berlin prior to the Berlin Olympics than in any other immediate or mid range threat, then his 'SS' takes all of the gold to 'ODESSA' where it's funnily enough for so called sworn enemies it's faithfully guarded by Masons Stalin und Khrushchev until the Fed gets it's investment back in 1973 ~ Meanwhile, long before that 1973 eclipse of logic, back in 1941 two weeks before the Scotland crash landing cover story Deputy Fuhrer Rudolph Hess under Adolf Hitler's orders sails a Tunguska nuke into London in a Portuguese smuggling vessel known to the Thames Police and London's high Mason's let it be known among those who needed to know that the war was lost and they'd capitulated completely ~ Adolf Hitler sends 100's of 1000's of troops to die terrible deaths in Russia's frozen land as a cover story before Mussolini under Hitler's orders sails a similar nuke to the London bomb up the Manhattan River in a sub captained by Captain Erich Topp, maybe in late 44′ yet certainly by 3 weeks before the time of Truman, giving 33rd degree American Masons an excuse they needed among those who needed  to know that America's war was also lost  😦
ALL FINANCED BY ZION   😦
Fast forward to the late 50's when the German born future 41st president GHW Bush with a near lookalike American born half brother of the same name stole a nuke which Rumsfeld und Cheney literally helped Eichmann stick under congress prior to the Cuban Missile Crisis cover, while Eichmann was supposedly in an Israeli gaol (Double) before (Literally) Rumsfeld shot 'JFK' in the throat to partially immobilise him and Cheney blew his fcuking brains out with your German-born 'Bush-41' coordinating the entire Dallas-area op, probably for Angleton ~ Three years after the USS Liberty towards the end of Vietnam the German born son of Prescott begins to entirely take over the American born one's identity around 1970, then he begins his run for CIA Director and 'VP' and later president, in the process the German born illegal future 41st president Bush stole J Edgar Hoover's extensive files on people in congress and other political pawn's as Nixon pushed thru legislation allowing the US Fed to borrow Nazi gold, helped more than a little by Hoover's files  😉
He (German Bush 41′) re-adjusted American perception of reality more than a little using every legal and illegal trick in the book including murder rape brainwashing blackmail and weird sex which, along with CIA's near unlimited resources around 38 years after Kennedy, after Reaganomics gutted anything left of American Masonic dignity integrity or truth, Americans got themselves a full blown 'Coup D'Etat' and are still getting it too, 'WITHOUT EVEN A SHTICK OF BUTTER'  😦
.
THEN FORT KNOX WAS EMPTIED UNDER HIS SON  😦
YA-THINK YOU GOT IT ALL WORKED OUT NOW?  😉
THIS WAS THE MASONIC LODGE UNDER ZION  😦
.
As for the (Admittedly)  kooky "Big Trouble in Little China, or, Operation Blowback on Moon Base Alpha One" title, don't concern yourself, it's a little play on an old movie and a current highly complicated political dynamic with real situations and thus far mostly hidden high tech perspectives being turned into an amoral occultist grand mal turdfest by the ancient wisdom of the British Monarch's masters  😦
The info which might provide a base for understanding my sarcasm in the title and that ties that in to what's gone down in recent history, what's going down behind the scenes in present day reality, and also what's about to go down in this fcuked up solar system in the immediate future is all in previous blogs if you wanna go look for it, yet if not just sit back and watch the hypocrisy grow as American and European Masons talk shit about me ~ You may wish to continue to listen to them instead of me, treat me as an absurdity while you ignore any kind of real world support for me in the way of lawyers to regain human rights or oversee proper medical care etc under my own control within this now 55+ year human rights abuse by Zionist Masonic fascists using the US Taxpayer chequebook without any form of true empathy or care, and all as the painful tumours they gave me get progressively worse ~ Also, you may wish to just ignore any grief I've already endured from the murder of every single person I'd ever loved by fascist Zionist Jews and Masons over the last 51 years while my human rights are continuously abused in a US funded Orwellian sham, and\or also ignore the abuse of the few brave hearts who still (Pointlessly?) try to do the right thing by me only to wind up raped heartbroken or dead, and one day soon enough, somewhere out in Hades after paradise falls if not in this world well before then, on my word of honour as a truthful man know this ~ Although I'll likely be in a position to help you in one way or another, instead I'll do absolutely fcuking jackshit diddly-squat for you or for anyone else you care about if they're not relevant to me or anyone I've made covenant with who kept their full word of honour to me  😦