Just a joke? ~ Well no, it's not, damn you you child-murdering creeps…
"The more truth there is in your sarcasm, the better it is"… my step-mom told me…
In that case, 'MY' sarcasm is primo best 'A-GRADE' first-class Numero Uno…
It's been around 57 years since German descent Jews of the supposedly non existent Bavarian Illuminati sect of Freemasonry working within their 'CIA' first tortured me as a 2 y\o for compliance to their evil US taxpayer funded "MK Ultra" shit…
Torture continued throughout my childhood, the only year 'CIA' didn't torture me (1970) they had their 'WW2' Jewish Nazi pals do it ~ I've finally had enough of these circumcised criminals, this 4000 y\o sect of liars thieves and murderers, that's it, I've reached the point where they can all, each and every last one of them that's ever existed or ever will, "Go and get well and truly eternally fcuked" you devils, you frauds, you fakes, you fools, you thieves, you pigs, and take your plausibly deniable hidden hand pawn's in the Masonic Lodge to eternal hell with you…
London Telegraph
July 31, 2016
Britain's most dangerous extremists will be forced to undergo a mandatory "deradicalisation" programme, in a major overhaul of the Government's counter-terror strategy. The "intensive" scheme could be used to target jihadists who have returned to Britain from Syria with psychological help, or to change the minds of radicals who support terrorist ideologies in the UK. Where it is legally possible, the Government will make it mandatory for individuals to attend these sessions, under the plan. It forms part of the Government's anti-terrorism strategy, which is being reviewed in light of the wave of attacks in Europe, to strengthen security at airports, on trains and at major public events. The strategy is likely to include dramatically increasing the number of spies to uncover terrorist plots, more armed police to stop jihadist gun attackers, a new scheme to protect Britain against a "mass impact biological attack" and tougher measures to stop terrorists getting hold of…
explosives from commercial and military stocks.
This article was posted: Sunday, July 31, 2016 at 6:41 am
Nothing is what it seems, it never was either, think about it before you die…
   WarEyeKnee (To) Et.Tu.Britass • 9 hours ago
I have no doubt that in reality the future will be vastly more
surprising than anything I can imagine. Now my own suspicion is that the
Universe is not only queerer than we suppose, but queerer than we can suppose.
   Et.Tu.Britass (To) WarEyeKnee • an hour ago
The ancient Greeks had an interesting wit…
To say that Hades and Zeus were half brothers could imply just that, or, imply two sides of the same persona, or even suggest they were the same being faking everyone out, like the Lucifer of the Masons which for one reason or another 33rd degree Albert Pike was said to have extolled in one of his books, and the Jehovah of the Jews who was quite the mass killer any way you look at it all being the same all powerful all knowing irresistible omniscient freak, and as for the universe being queerer than you thought, I'm with you on that, it must be, the Young Republicans were no doubt just Jesus Christ's way of saying that he really cares…
Or, and this perspective is rarely considered in America's Masonic controlled bible belt heartland, if you look at shit honestly with black op trench humor, then once you take the fact that all things are in his father's Jewish hand (So they say) which then must include our free will, and also take the larger exigencies of the financial irregularities along with the stupidity sexual perversion pedophile dungeon networks and the treason of off books US Govt hit squads within the Bush Clinton and Rockefeller x Rumsfeld crime families quietly murdering anyone they choose if they cause trouble into account, he was merely politely telling America…
to go give itself an ethereal reach-around…
And is there any true sanity anywhere in this silly galaxy? 😉
I've had an each-way bet on that for 37 odd years now 😉
   nowlookwhatyoumademedo (To) WarEyeKnee • a day ago
said when queer meant something relevant…
   Et.Tu.Britass (To) nowlookwhatyoumademedo • 15 hours ago
Not saying nothing here, not meeee, 'LOKI' might be tho…
Making some inappropriate joke about American politics…
Sometimes, only sometimes mind you, I'll think of all of the ancient Greek tragedies where the lives of mortal men were played out to the capriciousness of the god's, and then…
Then along comes 'LOKI' and he saves my '

BACON

'…
(Ah, bacon, bacon, yummy fresh-fried crispy bacon)…
Nothin' like a snack of fresh crispy fried-bacon as the bubbles in the tub rise up and soothe away all of the aches and pains of the day's troubles ~ Ah the bacon, Ah, the bubbles…..
'LOKI' is a bad god, he don't even like Bubbles and Bacon…
   Just quoting… • 10 hours ago
"When I think of the recent developments in the USA (Dallas shooting, Orlando shooting) and Europe (Nice, murdered priest, Germany shooting) I get this unpleasant feeling that something is not quite right. For one thing, the perpetrators are absolutely ridiculous: pseudo-Muslims who turn out to be drinking homosexuals, ex-patients of mental institutions – the kind of people I call "overnight Muslims": they all make darn sure to say Allahu Akbar a number of times, but other than that, they have no sign of Islam at all. In fact, far from being trained Daesh fighters, they are all losers with weak personalities. Exactly the kind of people the special services (and religious sects) like to prey upon because they are weak and easy to manipulate. Oh yes, I know, the good folk a Daesh do end up claiming that the perpetrator is one of them, but that really proves nothing (except maybe that Daesh is desperate to increase its notoriety).I have no proof of that, of course, but I am getting the very strong feeling that somebody is putting a great deal of effort to scare the bejesus out of the TV-watching crowd. But why? Why would anybody go to the effort to create a completely fictional threat?…" More at http://www.unz.com/tsaker/fals…
   Et.Tu.Britass (To) Just quoting… • 23 minutes ago
Why would anybody go to the effort to create a completely fictional threat?
Hmm, I'll have to think about it for a millisecond or two for a fuller answer, but just off the cuff I'd say it probably has something to do with the fact that Cessna Pilots couldn't fly a '757' if their lives depended on it (Snicker) and 2 aluminum bodied jets full of kerosene travelling faster than they can in the real world…
still couldn't bring down '

ONE

' skyscraper let alone three…
Oh yeah, chances of massive Saudi cash behind their intelligence service getting the US Air Force off to Alaska just as 'NORAD' goes down for 2 hours for a software upgrade after already getting the explosives for 'WTC 7' into the building where 'CIA' had it's New York office without real time support from America's Masons is slim down to zero, while the chances of some dyslexic Aussie crisis-actor fake "Bin Laden" doing so from a cave in Afghanistan is even lower, so I'd say it probably boils down to Masons having something big treasonous genocidal and highly illegal planned for the future, so they don't want anybody working out the present or the past…
That might be it poster, that might be why America's Masons under Titular Bavarian Illuminati head McCain keep making fake shit up, that, and the fact Iraq's gold went missing under US Occupation and Libya's gold went missing prior to Benghazi, Fort Knox is said to be empty, the big undercover 'FBI' investigation into institutionalized Young Republican pedo dungeons got a better burial under Biden than it's victims did, and the next major US false flag planned by the ancient wisdom of Freemasonry could easily see 1\2 your nation dead in a week…
and 1\3 of the world brought down with you..

   Just quoting… (To) Et.Tu.Britass • 2 hours ago
From the article you didn´t care to read –
"..What does such an apparently illogical and self-defeating plan achieve?
Simple! It maximizes fear and polarizes society… ..What our imperial overlords really want is for us to either fight each other or, at least, fight windmills. Look at the American public – it is totally obsessed with non-issues like homosexual marriage, gun control vs 'active shooters', Black Lives Matter vs cops, and the time tested pro-life vs anti-abortion protests… ..9/11 has taught us very little. Just like a bull in a bullfight we are still willing to go after any red rag put before our noses regardless of who is actually holding that rag or actually making us bleed…"
…False flags will contiune to flutter in great numbers in the Empire's hot air."
Now, have a nice day…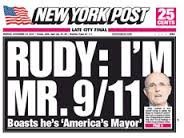 Et.Tu.Britass (To) Just quoting… • 8 minutes ago
Actually 'READ' an article on this Orwellian sometimes 4 to even 8 y\o recycle of old and often fake news under the US President's Cyber Security subnet melodrama?
'ARE YOU NUTS?'
The headline says most of it ~ Muslims Muslims Muslims Ya-Ya…
Bullshit… Pure Bullshit… Islam is violent … never ending Jihad against the whole world.. The world is at war with Islam … like it or not … You European Snowflakes do not get it yet … Stop screwing around and throw this cancer on your country out before it eats you alive … Ignorance is one thing … but pure stupidity is another .. Europe and America reflects the latter ….
   Et.Tu.Britass (To) TRIDENT • 3 hours ago
Sure, one question, do all Abram's offspring worship the same illusion, an angry invisible omnipotent omnipresent Abrahamic cosmic magician who created the universe by omnipotent god-magic, and (So it's said) threatens to one day destroy it with eternal fire using the same omnipotent god magic?
Hey, I-got a better idea…
let's all worship this Masonic flying p3nis here…
Maybe an animated film of Mohammed bottle-feeding white babies.
Here's a vid for that.
Naturally, at the conclusion, everyone gathers around a campfire to sing Kumbayah and munch on ham sandwiches. Pretty sure that'll dispense with 1400 years of butchery & deceit.
   Et.Tu.Britass (To) Bobby Bill • 2 hours ago
If only that patriarchal fcuk could've kept it in his pants so to speak…
##################
Time to really think shit thru fools…
Sometimes I'm prone to get more than just a little sarcastic, that's true…
I'm also prone to call the US Govt the biggest bloody frauds on planet earth…
That may or may not have something to do with them torturing me as a 2 y\o…
Read what I've written, form your own conclusions, remember the details…
####################
There's some interesting stories going round about me…
Most involve me being a love-starved psychosomatic retard…
All ignore some real (Serious) tumors and a lifetime of grief…
And the fact that really good-lawyers can cost $7000 per day…
And the reality that in a seriously-insane fascist world…
If you swap justice for love, you'll soon have neither…
Meanwhile, ignoring America's pedo-dungeon network…
Nothing done about our Australian pedo-dungeon network…
Neither was 'Colin (Pedo-dog) Stanley Winchester' either you fcukwits…
Just a bunch of 'CIA' and 'ASIO' and corrupt 'AFP' officers faking it…
The whole thing was faked to cover up the Timbertop ritual murders…
My step-dad and Winchester were casual acquaintances if you will, thay occasionally shared a drink at the local if he (Winchester) was in town… He (Dad) bought a painting from him once that you wouldn't pay more than $2.00 to $5.00 for in any Op Shop you'd name today for around $30 dollars or so dad said which was a lot of money back in the 70's when you could buy what's probably now around a $600.00 bottle of Port Wine for a mere $30.00 back then, so it was plain that future assistant commissioner Winchester was blackmailing him over something, that much was plain, I'd have painted that crap painting of his better as a 10 y\o, but the feeling I'd got at the time from what Clem wasn't saying to subtle yet specific questions of mine, questions like "What did you buy 'THAT' piece of crap for?" and other subtle one liners like that which are now beyond easy recall was Winchester was blackmailing him over me, blackmailing him over something which in the real world Colin Winchester couldn't have touched anyway because it had deep 'CIA' black op shadows and perspectives to it, but dad probably wouldn't have known that with any certainty, or else, he was making sure Winchester thought he was a total fool so that he could pick up bits of info, either was possible, dad was no fool by any means, but not an art critic either  😉
Any-waaay, that was just some background…
It's no big-secret who 'REALLY' put the first shot into that man out front of Winchester's house the night Australia was told that their pedo-copper king had been shot dead, tho not many people know the identity of the second American German-Jew 'CIA' off books pig who put the second kill shot into him, the same man or his identical twin as chain-sawed that little girl to death in Brisbane in 1981, same creep or his identical twin who killed "Sian Kingey" with a single stab wound to the heart after David Birney and his female friend tortured her for 10 minutes, and the same one or his identical twin who ran Jaidin Leske's murder too, thing is, while there was a small group of 'CIA' and 'ASIO' and 'AFP' cops around us around 10 minutes before the shooting, and just 2 'AFP' cops and the 'CIA' guy plus myself at the time the poor man that Australians were told was Colin Winchester was shot, there was 'NO FCUKING DAVID EASTMAN' anywhere within 'Cooee Cobber' (Snicker) that night, and no fcuking "Assistant Commissioner (Pedophile fcuking king cnut) Colin Winchester" there either, it was an identity-swap, a double you fcuk-wits, one who's last words to me were a short apology for how stupid he'd been to believe a thing they'd told him about me, plus a plea that I'd try to help his daughter as according to him 'THEY' had her ~ Kind of sad in a way seeing as I'd been drug-fcuked on the best "MK Ultra" shit that 'CIA' had…
and didn't even know his name or her's  😉
The guy who did the kill shot was probably 'Erich Jennings'…
His identical-twin was called 'Erich Hartmann' probably…
They both worked for the 'CIA' doing that type of shit…
Both offspring of 'WW2 Nazis' too by the way…
More pure American evil…
that

built

their

pedophile

dungeon

system

…
Here's the killer punch for American Police…
it's the punch where you send that cnut and his masters off to be with the Great Sacrificial Baby Jesus in the Sky (GSBJITS) which is surely where all righteous child-killer German-Jew Masons go when they die…
The 'Erich Hartman' character who had the same Nazi father as Representative Ron Widen was quite the hard man in his own eyes, his identical twin 'Erich Jennings' not so much so, a bit of a sook who mostly only served as a very effective alibi for his brother during murders yet dreamed of one day being a real man ~ Now one of them, I'm not sure which, was the nominee that held shares in a holding company refining plutonium in gas centrifuges for the American Department of Defense on behalf of one 'Ulrique Scherff' (41) as well as Don Rumsfeld and Dick Cheney, a company connected to the company that made a killing when '41' (Illegally) gave the tech to Germany while he was Reagan's 'VP' and I'd strongly suggest one connected to the company that made China's 'Jinping' a very rich man when Bill Clinton gave the tech to China in the 1990's ~ That's kind of out of the league of most average coppers, and isn't the killer punch I'm speaking of, that's just where you kick baby in the balls to make the tears come so it can't see what you're doing for the killer punch ~ The killer punch is in 3 stages, the first 1/ being that 'Hartmann' faked his death some time before or after '911' and then in 2004 'Jennings' was sent to Iraq for one reason or another (Distraction) and was seen no more either, might be dead, or might be in Russia, is there a difference? ~ The second stage of the killer punch is that 'Hartman' was bragging of killing Constables Tynan and Eyre in Melbourne Australia before it happened, if it really happened that is and wasn't just a smokescreen for other shit, and was also the one who bragged beforehand about arranging the Russell Street bombing and then bragged beforehand that he'd poison Constable Angela Taylor in the hospital as she made a recovery, and was also bragging of killing American coppers whenever they got in the way of his 51 state wide 'ICE' (Meth) wholesale distribution network…
and the third 3/ was…
he tacked that wholesale Ice distribution network onto the back of a network of low grade Satanic Covens who now run under Bavarian Illuminati Luciferin Masonic-license if you will an America wide pedophile abduction and prostitution dungeon cabal for the Bavarian Illuminati where a kid could disappear as early as 3 years old, then be worked Al-La 'Marc Duetro' right up until the shine wore off them only to then be ritually sacrificed at one of their covens at puberty, if not before, or simply supplied to the likes of McCain for Bohemian Grove purposes at any age…
All set up by the 'CIA' using your tax-money you fools…
He was (Is?) connected to Russian Mafia slave traders too…
Now I've woven their lies into a truthful format for you…
I am an arms dealer
Fitting you with weapons in the form of words
And don't really care which side wins
As long as the room keeps singing
That's just the business I'm in, yeah
This ain't a scene, it's a goddamned arms race
This ain't a scene, it's a goddamned arms race
This ain't a scene, it's a goddamned arms race
I'm not a shoulder to cry on
But I digress
I'm a leading man
And the lies I weave are oh so intricate,
Oh so intricate
I'm a leading man
And the lies I weave are oh so intricate,
Oh so intricate
I wrote the gospel on giving up
(You look pretty sinking)
But the real bombshells have already sunk
(Prima donnas of the gutter)
At night we're painting your trash gold while you sleep
Crashing not like hips or cars*,
No, more like p-p-p-parties
This ain't a scene, it's a goddamned arms race
This ain't a scene, it's a goddamned arms race
This ain't a scene, it's a goddamned arms race
This bandwagon's full
Please, catch another
And in case you forgot, he was a
'

CIA

'
operative…
Some of your kids rock America, but 'YOU' suck…
(And all videos and graphics remain the property of their original owners)…
(All rights royalties and copyright used with community-welfare in mind)…
Sadly, no-longer of much real concern to me…
Met all three of these below in the 1960's, and, it's three different men…
Two are German-born full brothers, one, an American-born 1\2 brother…
America, your Masonic Lodges don't think much of your intelligence…
####################
A story I've told elsewhere…
There's a story I've told elsewhere about being strapped to a chair drugged shitless on their "MK Ultra" stuff by 'CIA' with my eyes pinned open with surgical equipment a few months after their murder of missing Australian bub Azaria Chamberlain in front of me by a 'POS' operative for 'CIA' known to some in Australia as "Little Hans" a week or so after her so called death by a 'Dingo' (sic) taking her from her tent…
In kindness to Mrs Chamberlain, for an untrained victim it's very easy to place fully believable memories into someone's mind using those same drug based brainwash techniques, so she may very well have believed she saw a dingo take her baby ~ Anyway, at the time of the baby's murder both 'GHW (Scherff) Bush' (41) and Rumsfeld were in the house within the previous half hour of her (Azaria's) murder with a literal 'Bayonet' to the heart, anyway, again, this part I'm relating here a few months or so after her murder was…
basically, just torture to make me forget what I'd seen…
That included seeing Rumsfeld Cheney and your fake Kerry torture 9 babies to death, and then your 'Scherff-41' and one of his brother's torture 5 older children to death, all Aboriginal and all 14 that I'd seen slowly cut up with knives…
until they either bled out or went into shock…
That is not a '

CONDITIONED

' memory, it's the opposite…
I'd been tortured and grieved many times to force me to forget…
This time (For the torture described above) only 'GHW (Scherff) Bush' (41) and one other I'd not known by sight was in the house from memory, and for what seemed like about an hour to an hour and a  1\2 'THE' most violent video shit I've ever seen before or since was endlessly played in front of me, no way to turn away…
eyes wide open, brain turned to mush by 'CIA' hypnotic drugs…
No, it's not a fantasized Clockwork Orange scenario, it really happened…
So much in life and in the world itself isn't at all as they claim…
And still Zion keeps trying to use a "Cheap Trick" with emotional manipulations…
Control of a so-called 'Love Interest' I've never even met, it's all bullshit…
I'll still need a lawyer for due process and justice or a mortician pretty soon…
Before the "Lord Jew Almighty"  reigning in Zion repossesses my corpse..
(Snigger)