James Comey warns Islamic State attacks now endemic in Europe coming to America
Kurt Nimmo
Prison Planet.com
July 29, 2016
FBI Director James Comey told a cybersecurity conference at Fordham University Wednesday the eventual defeat of the Islamic State in Syria and Iraq will result in more terrorism in Europe and the United States. "At some point there is going to be a terrorist diaspora out of Syria like we've never seen before," Comey said. "Not all of the Islamic State killers are going to die on the battlefield." He compared it to the situation in Afghanistan in the 1980s when the CIA recruited and armed Mujahideen to defeat the Soviet Union. Remnants of this CIA project subsequently evolved into al-Qaeda and the Taliban. "This is an order of magnitude greater than anything we've seen before," Comey said. "A lot of terrorists fled out of Afghanistan… this is 10 times that or more." A similar situation evolved in Syria where ISIS jihadists from Iraq were imported and fed munitions through a "rat line" established by the CIA and MI6 after western supported rebels defeated and killed Libyan leader Muammar Gaddafi. […]
This article was posted: Friday, July 29, 2016 at 9:40 am
How about a reality break,,,,??
   Et.Tu.Britass (To) HANGTHEOWL • 43 minutes ago
Sure, how about one…
   Elm (To) Et.Tu.Britass • 3 hours ago
Very Funny. Indeed, it was an American version of an Egyptian based Rosicrucian Freemasonry, of which 50 of the founding fathers and co-signers to the American Declaration of Independence were members, that gave birth to the American constitutional republic, one of the freest, innovative and most progressive peoples to emerge in human history. To be sure, one must NOT mistake the left-wing regressive ideology of today's so-called liberal progressives, for the ideals and sentiments of the American founding fathers, or the democratic representative republic American was founded to be, and one might add, is still capable of becoming.
   Et.Tu.Britass (To) Elm • 4 minutes ago
Oh fcuk-off, I'll quote some facts to give your facts perspective…
You can call it Rosicrucian Masonry or York Rite Masonry or Scottish Rite Masonry or Liberal Progressives Masonry or 'LITTLE BOY'S FANNY TASTES LIKE HONEY MASONRY' if you want, but it was run by Masons of often illegitimate German Jew descent like Queen Victoria, it's a bloodline thing and it's their Masonic Zionist tendency to cover their Zionist evil with the so called Masonic good, or to make a poor analogy, hide the darkness of their ritual Baal worship Illuminati craft within the so called light…
of the Luciferin Masonic religion…
To that end within 100 years of that freest more perfect union or republic you mention (Not free for the slaves of the Zionist Masons) they were entrenched in the Civil War, treason on both sides with the "KKK" or Order of the Golden Circle holding all positions in the war cabinets of North and South except for Lincoln and Seward (Both Masons still) and with 600,000+ dead and Lincoln helping set up the cash bearer bond mechanism Tammany House Masonic Lodge head Boss Tweed used to get away with $100 million ($1 to $8 Trillion today) on the basis of beginning the new union freehold, with no debt, and with Tweed using a fcuking body double to avoid jail and some claiming Lincoln did likewise, with a lookalike shot in the theater…
And they just did it again on '911' right out in the open, there was no possible way to get 'NORAD' to shut down for 2 hours and the Air Force to fly off to Alaska let alone get the explosives into 'WTC 7' where their nest of illegitimate German Jew descent Zionists in 'CIA' had their New York office, without conspiratorial Masonic treason at all levels, and as for the "PATRIOT ACT" that came soon after?
The cynical use of such words imply the Masons thought the non Masons were pretty fcuking stupid ~ Soon, Iraq was invaded because Saudi Cessna Pilots learnt to fly a '757' in mid air the first time they got into the cockpit (So Masons claim) and Iraq's gold went missing under US Occupation…
Sham on Freemasons, but…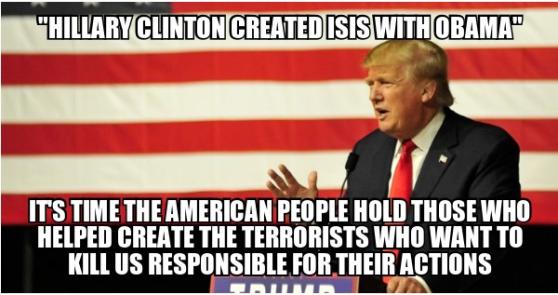 Et.Tu.Britass (To) gozounlimited • 24 minutes ago
So "Hillary Clinton created 'ISIS' with Obama" you think? ~ Damn, do you mean all that time she was really wearing an ugly fake John McCain latex face mask and wore a phaggy old-man pedo body suit over her old-lady body…
pretending to be Titular Head of Bavarian Illuminati Masons? 😉
Wow, she fooled meee, looks like "Hillary Clinton in 2016" then Gozo 😉
After refusing to prosecute Hillary, does anything Comey says have any credibility?
   Et.Tu.Britass (To) haifisch8587 • 24 minutes ago
After refusing to prosecute Bush Cheney and Rumsfeld, you all full of it…
####################
There's the dead-serious part of this blog, now here's the seriously-funny bits…
Zero Hedge
July 30, 2016
Hillary Clinton at her DNC speech:
"I'm not here to take away your guns" …
   Hillary Clinton wants you to know one thing about her position on gun control: 
"I'm not here to repeal the Second Amendment. I'm not here to take away your guns."
  She elaborated further on her comments, which she made at her Democratic National Convention speech accepting the presidential nomination:
"I just don't want you to be shot by someone who shouldn't have a gun in the first place."
 –V
ox
During her acceptance speech, see above, Hillary said she wasn't going to take away guns in the US, but this is untrue. She knows just how to do it. First of all, she will make guns more expensive with new back ground checks. Second, she will make guns manufacturers liable for selling guns that later are used in crimes. But that is just the beginning. Hillary doesn't actually believe that people in the US should have guns.
In a Fox post HERE entitled, "Four ways Hillary Clinton will work to end gun ownership as president," John Lott points out that in an appearance on ABC, Hillary would not say whether citizens had a constitutional right to own guns.
George Stephanopoulos pushed Clinton twice on whether people have a right to own guns on ABC News' "This Week": "But that's not what I asked.  I said do you believe that their conclusion that an individual's right to bear arms is a constitutional right?" Clinton could only say:
"If it is a constitutional right…"
Clinton like other gun opponents, believes an overabundance of guns are responsible for the shootings that take place in the US, especially in mass shootings. But there are many questions about these mass shootings. David Steele, second-highest-ranking civilian in the U.S. Marine Corps Intelligence and former CIA clandestine services case officer, has said this here:
"Most terrorists are false flag terrorists, or are

created by our own security services.

In the United States, every single terrorist incident we have had has been a false flag, or has been an informant pushed on by the FBI. In fact,

we now have citizens taking out restraining orders against FBI informants that are trying to incite terrorism.

We've become a lunatic asylum."
Such FBI involvement leads one to ask whether there are forces in and behind the US government that are manufacturing violence in order to justify continued anti-gun agitation. Authoritarian governments and those who back them don't want people to have guns because without guns, it is much easier to force people to obey. When people are not armed, genocide becomes a more viable and convenient option. […]
This article was posted: Saturday, July 30, 2016 at 3:50 am
Donald Trump is talking on "CSpam" internet radio just now, a repeat of a month old speech they say, yet far more likely to be one more heavily scripted deception, like a staged radio play by HG Wells if you like, he's talking about the exact opposite of what Republicans claim Hillary Clinton doesn't care for and Donald Trump does, and to back that up, he's quoting 'STATISTICS' on how bad things are…
But not one person is talking about repealing the Patriot Act so constitutional norms can be restored, thus restoring the sanity of America by re-empowering the honest ones left to voice their dissent ~ That said, time for a bit of tactical disbelief…
Both sides are run by Zionist Masons, and run by the 'SAME' Zio-Masons too 😦
What happened America, all your truth is 'MIA' somewhere, what happened? 😦
Some Rodney Dangerfield one-liners for the trendy New Yorkers…
Hillary? ~ Trump? ~ You're kidding me right? ~ Well here's a better one, did you hear the one about the Episcopal bishop big on consensus? ~ Says to the choirboy "I'm not here to take your anal virginity little boy", and then blew him instead…
Hey, I'm not a Republican, I'm not a Democrat, I'm just a realist…
So how about an "Anal Virginity" test for anyone re-elected in the congressional elections in November if they decline to take a new urine test for alkaloids every single time they take a breath in congress? ~ Or would that be homophobic? 😉
####################
Time to really think shit thru for real…
Sometimes I'm prone to get more than just a little sarcastic, that's true…
I'm also prone to call the US Govt the biggest bloody frauds on planet earth…
That may or may not have something to do with them torturing me as a 2 y\o…
Read what I've written, form your own conclusions, remember the details…
####################
(And all videos and graphics remain the property of their original owners)…
(All rights royalties and copyright used with community-welfare in mind)…
Sadly, it's no-longer of much real concern to me…
Met all three of these below in the 1960's, and, it's three different men…
Two are German-born full brothers, one, an American-born 1\2 brother…
America, your Masonic Lodges don't think much of your intelligence…
####################
A story I've told elsewhere…
There's a story I've told elsewhere about being strapped to a chair drugged shitless on their "MK Ultra" stuff by 'CIA' with my eyes pinned open with surgical equipment a few months after their murder of missing Australian bub Azaria Chamberlain in front of me by a 'POS' operative for 'CIA' known to some in Australia as "Little Hans" a week or so after her so called death by a 'Dingo' (sic) taking her from her tent…
In kindness to Mrs Chamberlain, for an untrained victim it's very easy to place fully believable memories into someone's mind using those same drug based brainwash techniques, so she may very well have believed she saw a dingo take her baby ~ Anyway, at the time of the baby's murder both 'GHW (Scherff) Bush' (41) and Rumsfeld were in the house within the previous half hour of her (Azaria's) murder with a literal 'Bayonet' to the heart, anyway, again, this part I'm relating here a few months or so after her murder was…
basically, just torture to make me forget what I'd seen…
That included seeing Rumsfeld Cheney and your fake Kerry torture 9 babies to death, and then your 'Scherff-41' and one of his brother's torture 5 older children to death, all Aboriginal and all 14 that I'd seen slowly cut up with knives…
until they either bled out or went into shock…
That is not a '

CONDITIONED

' memory, it's the opposite…
I'd been tortured and grieved many times to force me to forget…
This time (For the torture described above) only 'GHW (Scherff) Bush' (41) and one other I'd not known by sight was in the house from memory, and for what seemed like about an hour to an hour and a  1\2 'THE' most violent video shit I've ever seen before or since was endlessly played in front of me, no way to turn away…
eyes wide open, brain turned to mush by 'CIA' hypnotic drugs…
No, it's not a fantasized Clockwork Orange scenario, it really happened…
So much in life and in the world itself isn't at all as they claim…
And still Zion keeps trying to use a "Cheap Trick" with emotional manipulations…
Control of a so-called 'Love Interest' I've never even met, it's all bullshit…
I'll still need a lawyer for due process and justice or a mortician pretty soon…
Before a lord "Jew Almighty"  (sic) reigning in Zion repossesses my corpse..