Yet Hillary's top donor funded Ferguson rioters and violent activists in Ukraine
Kit Daniels
Prison Planet.com
May 23, 2016
In an attempt to both pacify Bernie Sanders supporters and reset her failing campaign for the umpteenth time, Hillary Clinton has unveiled a new campaign slogan: 'Stronger Together.'
Clinton repeated the phrase at least five times during an interview with MSNBC, although she also acknowledged that slogans "come and go."
"Look, we are stronger together," she said. "We are stronger together in facing our internal challenges and our external ones."
"We are stronger together if we work to improve the economy." But the slogan comes off as a sick joke; it's as if Hillary is telling Bernie supporters to quit complaining about her theft of the nomination because they're "stronger together." And it also comes off as a desperate move by a struggling candidate who can't even generate enthusiasm in her own party, much less counter the surging popularity of Donald Trump. […]
Like the False Flag Meme…. 'America Strong'….. 'Boston Strong'….. 'Newtown Strong' ….. 'Charleston Strong'. The False Flag terrorist wants us to be 'Stronger Together'? Billary is already doing a good job on that front with her crisis actors…. no need to suck the innocent voter in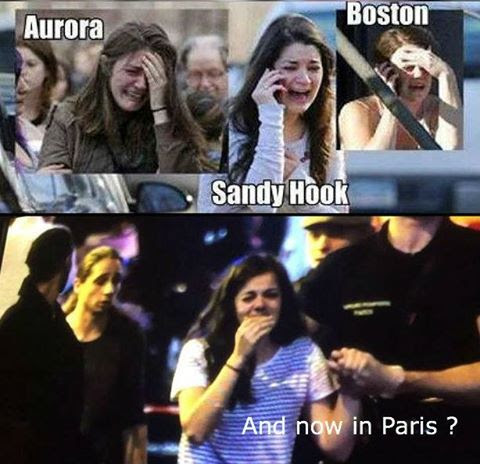 Et.Tu.Britass (To) gozounlimited • in a few seconds 
'ON–MESSAGE 2004′ ~ Ten times the spiritual hit America took on '911'…
Lying developed a serious case of 'Plausible Deniability' ever since then…
Aurora Boston Sandy Hook and Mother Emanuel Church all symptoms…
And the diagnosis? ~ Greed, simple greed, greed for gold and power…
Destroying future truth to hide past lies is called 'ANCIENT WISDOM'…
But a need to deceive becomes exponentially greater as the lies grow…
  HANGTHEOWL (To) gozounlimited • 14 hours ago
Traitors bitch should be in jail,,,,,,
  Et.Tu.Britass (To) HANGTHEOWL • 3 hours ago
I'm currently heavily condemned by America's Masons for being too much of a comedian, but prior to 2011 I'd been condemned by the same for being too serious ~ Hmmmm, as I'm edging ever closer to meeting the "Great Mortician in the Sky" (GMITS) I've recently over these last few years decided to keep a balance between humor and cold hard historical and personal political fact, just in case he may well be the biggest sickest joke ever played on humanity 😉
I'd hate to run into him (GMITS) + Homer Simpson, and 'GW' Bush up there in paradise and just be standing there with my sad ethereal dcik in my sad ethereal hand and not have a single humorous quip to offer 😉
That said, now that my humor and truth are balanced, I'm suddenly grateful for the great opportunities for humor America provides to the likes of lowlife opportunistic self-seeking comedic scum like me, and, have thus decided that if the Judeo Xtian devil proves to be anything other than an antithesis of their Abrahamic god deception…
I'm gonna work for the devil post rigor-mortis…
doing one-liners about 'GOD'…
This article was posted: Tuesday, May 24, 2016 at 6:11 am
Yes…. according to islam and the koran……
It'll be islam, slavery, or death….. People need to educate themselves about islam and what the "infidels" are facing.
  Et.Tu.Britass (To) ed357 • an hour ago
Hmm, thought it was Islam, Slavery, Death, or a 'Cessna Pilot' license? 😉
Notice how the Crusades had no pope at its front? Wonder if that one was doing the same thing as this one before the world checked his azz
  Et.Tu.Britass (To) Kerry • 39 minutes ago
There was 900+ years of Vatican gold seized by Normans in 1084, that was then in turn used to finance Crusader theft of the Middle East's gold, Iraqi the gold was seized by World Zionism using American Freemasons who in turn used the US Military as gold mules in 2004, this was the gold which Saddam had begun to collect, trading Iraqi oil for gold, Libya soon followed suit, now it's all gone and they claim even 'Fort Knox' is empty too? 😦
'WTF?' ~ Did the terrorists do all that? ~ This was 920 odd years after that Norman gold theft of the Vatican gold in 1084, coming 60 to 70 years after Zion's British Bank financed Japanese theft of gold in Southern China and then the Italian's theft of African gold and then the US Fed financed Nazi's theft of Europe's gold which was likely the biggest gold theft of all time…
"Gold Gold Gold Gold Gold Gold Gold Gold Gold Gold" ~ (And oil)…
Saudi legal expert gets it half right
Kurt Nimmo
Prison Planet.com
May 23, 2016
The Saudis, angered by the Senate's unanimous vote approving a bill allowing the families of 9/11 victims to sue their country, have tapped Saudi legal expert Katib al-Shammari to come up with an explanation for what happened on September 11, 2001. The text was originally published by the London-based Al-Hayat daily and translated by the Middle East Media Research Institute (MEMRI), a disinformation outfit linked to Israeli intelligence. It places the blame for the attack squarely on the United States. The Saudis are portrayed as victims. […]
This article was posted: Monday, May 23, 2016 at 4:48 pm
It's really odd how quickly the steel from the collapse was carted off and shipped to china lickity-split…. hmmmn no evidence. Liquid steel from kerosene-based jet fuel????? All 3 buildings collapse in their own footprint and cement pulverized to dust? Silverstein takes out new insurance policies just before the attack? No Zio boys or girls show up for work the day of the attack…told not to show that day?? Molten steel present for days after? Bldg 7 never got hit? Geeze America… connect the dots you blind sheep!! Some Zio-based company supposedly doing repairs with free access for 2 weeks before??? And to top it off… Zios acquire nuke tech by ripping it off from the US…. WAKE Up people!!
Major support beams cut at angles precisely???
  Et.Tu.Britass (To) rea • 6 hours ago
Don't believe-it, that's not really true, there's literal 'TONS' of first grade Dr Judy Wood style metallurgical forensic evidence at the 'FRESH KILLS' landfill, which is probably where they (In spirit) buried 2\3rds of the US Constitution in effigy if you think about it for a little bit…
  robideu (To) Et.Tu.Britass • 2 hours ago
Judy Wood's work on this is excellent and very persuasive but even she couldn't say how the towers were pulverized, but it wasn't thermite. Best guess was directed energy weaponry, the kind that is the hardest to believe and nigh on impossible to convince the people of as the source of the damage. Well, if the American people weren't so easy to fool you could never see the rise of a freeloading dictator like T. Rump.
  Et.Tu.Britass (To) robideu • 33 minutes ago
Dr Wood was probably advised by some sad Machiavellian bastard to use that term "Directed Energy Weapon" so as to try to stick as close to the truth as possible in the hope of getting the most facts out to the dull droll delinquent near total television-lobotomised American Joe Average types, which she did ~ The more correct term to use is what's rightly called a 'FIELD ENERGY' weapon, type of string theory physics but one that emanated from the buildings themselves, one that for the most part was placed in the towers at the time of construction ~ It was a 'Hutchinson effect' electro-magnetic energy field generator specifically designed to weaken the steel first and then the concrete in a secondary manner, the actual power source for the process being Tesla field generators built into both towers right from the get go, like the Empire State building was known to have had up until the 1960's, such tech specifically drawing electric power from the earth's magnetic field using inductive resonance harmonies to then create the right conditions for pulling electricity from the magnetic core of the planet…
which permeates all earth…
The Egyptians did the same thing once with the pyramids 40,000 odd years ago too and unintentionally caused the great flood when they brought the 1000 mile water vapor canopy surrounding earth down, but that's another story, seems as tho biblical reality with angry invisible cosmic magi doing shit is all people wanna know ~ But as for the "Directed Energy" weapon phrase, nope, there was no US Air Force laser jet and no 'AREA-51' space craft shooting shit that day, just a Tesla field generator drawing electric power from earth's magnetic field, this in turn fed a very different kind of 'FIELD ENERGY' generator down in the bowels of each building, and the 'FIELD' that generated was in turn focussed by the tech within those so called crates of "Printer Ink" and\or "Coca Cola" (Snicker) that were delivered to the building at all floors in the 3 days prior to the Cessna Pilots performing stunts that proved "Angry omnipotent omnipresent invisible Abrahamic Cosmic Magician Allah Baalah" was every bit as powerful as the "Angry omnipotent omnipresent invisible Abrahamic Cosmic Magician" (sic) that Jewish Jehovah was and, was a better pilot, a much better pilot (Tee Hee) too, no doubt ~ Excuse that pun there but, them's the nitty gritty of the overall reality and it was that same 'FIELD ENERGY' disruption at a sub-atomic harmonic level that destabilised (Melted) the steel engine blocks in cars and trucks up to 1\2 a mile away on the day because the cars and trucks weren't grounded having rubber tires, bearing in mind that thermite underneath those "Asbestos insulated (Snicker) near solid steel beams" was also used as well, but it's that harmonic 'FIELD ENERGY' that weakened the molecular bonds of the steel enough to powder much of it in the towers as well as cause some severe rusting in surrounding steel structures within days, and it's the same dynamic (Physics) that left pools of molten metal in the basement holes months after the incident 😦
But like a mythical sage once said…
"Reality sucks, and then you die" 😉
  robideu (To) Et.Tu.Britass • 2 hours ago
You made some interesting points.
So far nobody really knows the truth.
  Et.Tu.Britass (To) robideu • 6 minutes ago
Except for those who do, the Bavarian Illuminati Freemasons who did it…
  ricck lineheart (To) rea • 7 hours ago
When the Sheeple are awake what will they do …….? ….. not shit!
  Et.Tu.Britass (To) ricck lineheart • 6 hours ago
Depends if you let your treasonous Masons who coordinated the '911' attacks for their Zio Bavarian Illuminati masters keep running your minds or not, although, well, it seems that 'Reality Perception Control' is the new religion in America, relegating the Christ's message of a religion based on truth…
to a very second class quaint myth…
It was political blackmail that trapped the Masonic Lodge…
Hoover's files + laundered Israeli Aid used by your 'CIA'…
Create a 100% treason amnesty, or, 'YOU DIE SOON'…
Everyone that is educated knew it was a triad Mossad,
CIA, and Saudi involvement.
  Et.Tu.Britass (To) Kellel • 5 hours ago
Not a Bavarian-Illuminati Zionist-Jew Mason in sight Kemo Sabe? 😉
Unless the Saudi Government was in on the production of pre- 911 films such as the 1998 "Enemy Of The State"…. shut up already. Then go down the very, very short list of possible candidates. Mazel Tov from your "friends". .
  Et.Tu.Britass (To) Bobby Bill • 3 hours ago 
Heh-Heh, Ooh-nah Bobby Bill, goes back much further than that duude 😉
George H.W, Bush. Bill Clinton. and George W Bush including Obama. Including the Saudis. Have kept a perpetual war, and terrorism going on for almost thirty years. It's no secret that the Bush and Bin Laden family, are in a tight business venture liken to family ties. The 28 pages do revel that Saudi Arabia did fund Terrorist groups inside the United States, and in return the United States would destabilize the Middle East. The only role that these terrorist played was to high jack airlines to hit the World Trade Center. Towers one and Two including World Trade Center seven. The third airliner failed to make it's target on time. All three World Trade Center buildings were taken down in a controlled demolition fashion. Experts were threatened to keep silent or mysteriously died of illness or heart attack. Of course Saudi Arabia is fighting back named as the only bad guy, An operation as large as 9/11does take highly skilled coordination, something only the U.S. is capable of, and plenty of money that Saudi Arabia has. In 1990 The only country that was giving Saudi Arabia a hard time was Iraq and Saddam Hussein, he was not only keeping Iraq stabilised and killing Sunni terrorist at the time, but Iraq was also westernized with women going to collage and were able to drive. This was considered an abomination according to the Koran. Both Iraq and Iran majority were and are Shite. Saudi Arabia is 99.9% Sunni. Saddam Hussein needed to be taken out and it had to be legitimate and 9/11 was a good cover, because the American people demanded revenge and he made a good patsy. There are several Middle East countries that are slated to be taken out. One of course is Syria, that is right next door to Saudi Arabia. Libya another country fighting terrorism under strong man Gaddafi. The only mistake he made was to partner with the U.S. leadership under Obama supposedly the man of peace? After all he was taken out by a U.S. drone. If people ask why the Middle East hate us so much? After 30 years of bombings and western troops invading their countries killing innocent women and children. Let's not forget that in the Middle East, there are many religions that have lived in peace with each other for thousands of years and yes including Christian's now almost wiped out, in the Middle East. Because of a few men and yes women that seek money and power, the rest of us in the western world suffer by those seeking revenge upon us.
  Et.Tu.Britass (To) Red Rocket • 5 hours ago
Here's another big 'NO-SECRET' national security secret ~ The name of their fake Saudi Bin Laden was this Australian-born "Peter William Vanstone", the man on their televisions from 1997 thru to 2004 ~ You been 'PLAYED' by all your 33rd degree Bavarian Illuminati Masons in 'CIA' ever since one of the surviving 'WW2' Nazis (Also a Mason) shot your 'JFK' dead 2 weeks before Dealy Plaza America, with the whole sham of Kennedy's Secret Service security double being executed in his place (By a Communist) what has proved to be a very successful attempt to bamboozle you ~ It's almost like (Heaven forbid) you're that 'FICKING' (sic) desperate to try to avoid the world knowing how stupid you've been, that you're willing to carry on in denial even if it causes 'WW3'…
you daft (Patriot Act) 'Mutter Fickerrrrs'…
  Web of Deceit • 9 hours ago
  Jon Krüger (To) Web of Deceit • 7 hours ago
The 5 Dancing Israelis arrested on 9/11 ADMIT on Israeli TV: "Our purpose was to document the event" – a clear admission of foreknowledge
  Et.Tu.Britass (To) Jon Krüger • 4 hours ago
Perhaps they didn't want to get 'SHTUPPED' for what America's old boy network of Bavarian Illuminati-run Masons planned since the 60's when it was decided Prescott Bush's old construction company would be awarded the contract to supervise the overall construction of the Towers…
despite the contract not even being let yet? 😦
Israel did it and there are many reasons for that, but mainly their national security. Saddam got killed etc. Less enemies for them to fight. Let the stupid GI do their dirty work. Prisonplanet is said to be very controlled by the very same Israel, so do not expect to find more than half truths here…
  robideu (To) Ole Johansen • 2 hours ago
Oh sure. Smoking that spice again?
It really fucks up your brain.
Not great for your heart either.
  Quidam (To) Ole Johansen • 9 hours ago
Including your comments?
  Et.Tu.Britass Quidam • 4 hours ago
Pretty-much, the original Saddam was dead by 93 or thereabouts…
His son in law spent 3 pointless months in America during 1995 as he was trying to talk to every media outlet he could to show them real proof that Iraq had disarmed but, 'THE FIX WAS IN' big time…
That man was then murdered in Iraq when he returned…
(See America, you're not the only treasonous frauds)…
One of Hussein's 9 security-doubles took the role to keep the whole of Iraq from splintering while UN weapons inspectors located all of the Iraqi state's 'GOLD BULLION' storage depots under the guise of looking for a 'WMD' industry that 'CIA' knew they didn't have…
You're a scary nation America, almost 100% in denial are you? 😦